Free Dinner: RSVP by April 20 for UT Health Science Center Voices
---
Author: Charlotte Anthony | Category: Around Campus | March 25, 2016
UT Health Science Center students, meet other UTHSCSA students at the first university wide professional networking event on Thursday April 28 from 5:30 p.m. to 7 p.m. at the Academic Learning and Teaching Center Room 3.304.
Students from each school will share their stories of what they do at UT Health Science Center. A free dinner will be provided along with time for networking. The first 100 students will get a free t-shirt. Faculty and staff are invited to attend to show support for the students.
Please RSVP by April 20: http://tinyurl.com/uthscsavoices
Speakers
School of Nursing---Tabitha Higgins & Xavier Grizelle
School of Dentistry---Marinee Cabrera & Casey Cazes
School of Health Professions---Ken Queliza & Gayle Tabotabo
School of Medicine---Mecklin Ragan & Tanner Campbell
Graduate School of Biomedical Sciences---Ahsan Choudary & Jodie Gray
UTHSCSA Voices
Thursday, April 28
5:30 p.m. to 7 p.m.
Academic Learning and Teaching Center Room 3.304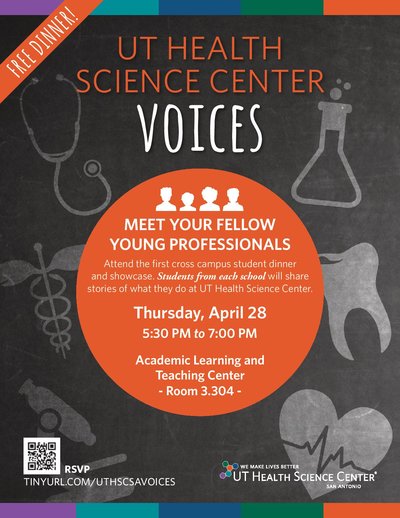 First 100 People at the event get this free t-shirt! #UTHSCSAVoices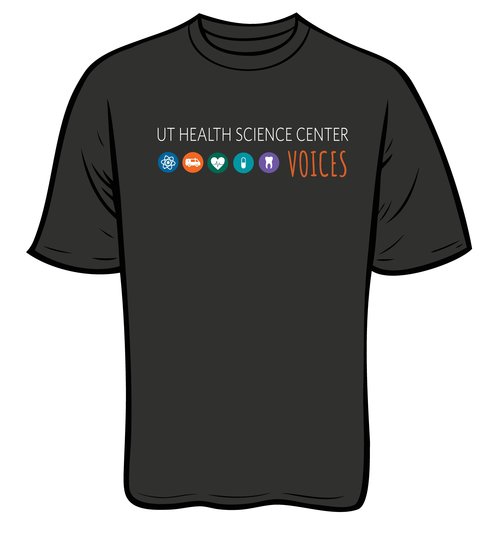 ---
Copyright © 2019 The University of Texas Health Science Center at San Antonio
Links provided from the UTHSCSA pages to other websites do not constitute or imply an endorsement of those sites, their content, or products and services associated with those sites.
---
comments powered by

Disqus