Filter By Categories
Filter by Program Categories
Integrated Biomedical Sciences Program

Ph.D. Programs

M.S. Programs
Archives
Interested in Science Communication? Consider These Opportunities.
---
Author: GSBS | Category: Opportunities | February 14, 2017
The National Association of Science Writers would like to invite members to volunteer as a category judge for the 2017 NASW Science in Society Awards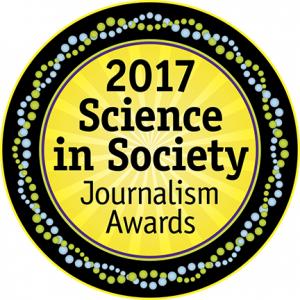 As one of the 15 category judges, you'll work in teams of three to winnow down the qualifying entries in one of the categories and nominate three finalists to be presented to the final judges. Categories are Books, Opinion, Science Reporting, Science Reporting for a Local or Regional Market, and Longform Science Reporting. Volunteers should be available for reading, judging, and discussions with other committee members beginning in May and ending in June.
Judging will be done using a convenient online system, with the exception of Books, which will include a mix of electronic and hard copies. Judges agree to keep the process and discussions confidential.
All members are welcome to volunteer. The category judge volunteers should not be themselves entered in the contest. However, they may be employees of, or freelancers for, media outlet that submit entries — with the understanding that they would recuse themselves from judging entries from that outlet. They may also recuse themselves from judging any entry for which they perceive a conflict of interest. Reasons for recusal might include being a relative or partner of an entrant.
To volunteer, send an email indicating which categories you'd like to be considered for, along with a brief (one-page) CV, to Executive Director Tinsley Davis (director@nasw.org) by March 15. Award committee co-chairs will be responsible for selecting well-rounded judging teams from among those volunteering and will be in touch the week of April 3.
Sincerely,
Alla Katsnelson
Amber Dance
Awards Committee co-chairs
World Conference of Science Journalists
On a related note, the 10th World Conference of Science Journalists is excited to offer travel fellowships for professional and student attendees from the U.S. and abroad.
These fellowships are intended to enable those who otherwise could not attend to join us for the conference in San Francisco, October 26-30, 2017. The grants will provide full or partial support to cover economy airfare, accommodation for the duration of the conference, and reasonable ground transport, up to a maximum amount based on the traveler's location and circumstances. Fellowship recipients will receive basic complimentary meeting registration.
Applications will be accepted until March 15, 2017. Successful applicants will be notified by April 15 to allow for plenty of time to plan travel and acquire any necessary visas. Selected fellows will be informed of the exact amount of funding offered at the time of notification.
Visit wcsj2017.org/fellowships for details on each type of fellowship and a link to apply.
WCSJ2017 is grateful to the William K. Bowes, Jr. Foundation, donors to the David Perlman fund, the Rutter Foundation, the National Association of Science Writers, Nature UK, Annual Reviews, the Council for the Advancement of Science Writing, Taylor & Francis, the Waterloo Global Science Initiative, and Newswise for supporting these travel grants.
This information was originally found here and here.
---
Copyright © 2019 The University of Texas Health Science Center at San Antonio
Links provided from the UTHSCSA pages to other websites do not constitute or imply an endorsement of those sites, their content, or products and services associated with those sites.
---
comments powered by

Disqus